The Broken Ones (prequel to Stolen Songbird, Hidden Huntress, and Warrior Witch)
Danielle L. Jensen 
Release Date: June 6, 2017
Publisher: Angry Robot
Buy: Amazon | Book Depository | Chapters/Indigo.ca | B&N | Kobo
Synopsis:
A prequel to the USA Today bestseller and Goodreads Choice finalist Stolen Songbird (The Malediction Trilogy).

Below Forsaken Mountain, a revolution stirs with the aim to overthrow the tyrant king of Trollus, and Marc is the right hand of its leader. It's a secret more than one troll would kill to possess, which is why he must keep it from everyone, even the girl he loves.

Since a tragic accident revealed her affliction and ruined her sister's chance at the throne, Pénélope is an anathema to her father, the Duke d'Angouleme. Deeming her life worthless, he gives her one chance to survive: find proof that the boy she loves is a leader in the sympathizer revolution.

Marc and Pénélope must navigate the complex politics of Trollus, where powers on all sides are intent on using them as pawns, forcing them to risk everything for a chance at a life together.

Except being together might be the greatest risk of all.
I'm so happy to be part of the blog tour for THE BROKEN ONES by Danielle L. Jensen. Today I'm posting an interview I got to do with the author. THE MALEDICTION TRILOGY is one of my favourite YA fantasy series, so I was thrilled to hear there'd be a prequel. If this series is new to you please check out STOLEN SONGBIRD, the first book. This gorgeous debut has trolls and magic and a city under a mountain. If you haven't read STOLEN SONGBIRD, I recommend reading it before THE BROKEN ONES. Thank you to Danielle for joining me on the blog today.
Q: In THE BROKEN ONES, Marc and Pénélope find themselves right in the thick of the complex politics of Trollus, both holding dangerous secrets of their own. How did writing THE MALEDICTION TRILOGY, which became more complex with each book, prepare you for this story?
A: It taught me patience. I'd love to say that all the interconnections and depth of plot for the trilogy appeared fully formed in my brain, but that was really, really, not the case. While writing those three novels, I learned to dig deeper. To make sure actions had not just one believable motivation, but layers of them. To find the connections between characters and events, even if those connections didn't make it onto the page. THE BROKEN ONES is technically the backstory for the trilogy, but calling it such makes it sound boring. I prefer to consider it the beginning of the story. There are countless ties to the trilogy, some big and some small, that I hope readers will pick up on, and building those in was part of what expanded THE BROKEN ONES into a full-length novel. This is just a silly, non-spoiler example, but did you ever wonder how Tristan managed to smuggle a piano into Trollus for Cécile? Well, he didn't – it was already there… 🙂
Q: THE BROKEN ONES is told in the joint point of view of Marc and Pénélope, different from THE MALEDICTION TRILOGY, which were told in the POV's of Cécile and Tristan. What was that like? Were you ever worried that Marc and Pénélope would sound too similar to Cécile and Tristan?
A: I didn't worry about it, because the characters are so different. Pénélope is the quintessential quiet heroine. She's soft-spoken, thoughtful, elegant, and about as far from my reckless and impulsive Cécile as you can get. Marc is a younger, slightly more naïve, version of the troll you got to know in the trilogy, and he also has a much quieter voice than Tristan. Tristan has a huge role in THE BROKEN ONES, so you'll get PLENTY of his younger, smart-ass self to sate yourselves! I'm digressing here a bit, but as much as the cover copy makes it sound like THE BROKEN ONES is about Marc and Pénélope's relationship, it's actually just as much about Marc's relationship with Tristan. They have their fair share of conflict, but they have an exceptionally close friendship that didn't get the page-time it deserved within the trilogy.
Q: This is a prequel to your debut novel STOLEN SONGBIRD. What was it like writing something where the ending is already in print? Were you ever worried the plot would head in a different direction?
A: It was tough, for sure. I never felt like the plot was driving toward a different ending, but it was often challenging ensuring that how I got to that ending remained consistent with the details I provided within the trilogy. There were many times when I was banging my head against my desk, because what I wanted to write wouldn't work within the parameters I'd inadvertently set for myself when drafting the other books. But that forced me to dig deeper and get creative, and I think the novel is better for it.
Q: This book was originally supposed to be a novella. Is it safe to say you really enjoyed writing it? What was your favourite part about returning to this world?
A: I LOVED writing it! Trollus was my favorite setting within the trilogy, and it felt so good to walking through its streets again.
Here's the thing about it morphing from a 30k word novella to a 68k word novel: if it had remained a novella, all it would've contained would be a slightly elaborated-upon version of what readers already knew. And I wanted it to be so much more than that. Marc deserved more than that. Despite readers knowing the ending, I wanted the story to be exciting and unexpected and full of new plot that would leave readers wondering if they actually knew how things would turn out. As far as what my favorite thing about writing it was… I'd say the cameos, especially the appearance of Chris. His friendship with Tristan was one of my favorite things to write in the trilogy, and it was great to include their relationship's origin story!
Q: If Marc and Pénélope lived in our world, what books would they be reading right now?
A: Haha, this made me laugh, because there is a scene in the novel where Pénélope confesses that she doesn't spend much time reading – she prefers to spend it on her art. That said, she is a guild-trained artist, so I'd envision her with a book about art history or technique. Marc is deeply concerned about the state of Trollus, so if he lived in our world, I'd see him reading non-fiction about social or political issues. How different they are from Cécile and Tristan, who both like to read escapist fiction!
Daniell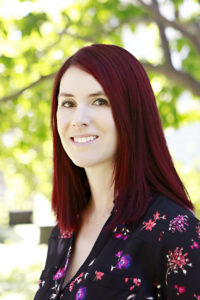 e L. Jensen was born and raised in Calgary, Canada. At the insistence of the left side of her brain, she graduated from the University of Calgary with a bachelor's degree in finance. But the right side of her brain has ever been mutinous, and it sent her back to school to complete an entirely impractical English literature degree at Mount Royal University. Much to her satisfaction, the right side shows no sign of relinquishing its domination.
Danielle L. Jensen is the USA Today bestselling author of The Malediction Trilogy: Stolen Songbird, Hidden Huntress, and Warrior Witch.
Follow Danielle L. Jensen on Amazon
My website: danielleljensen.com
Twitter: @dljensen_
Instagram: danielleljensen
Facebook: @authordanielleljensen
Goodreads: https://www.goodreads.com/author/show/7091823.Danielle_L_Jensen